Radical Visions
The Early History of Four Corners and Camerawork 1972-1987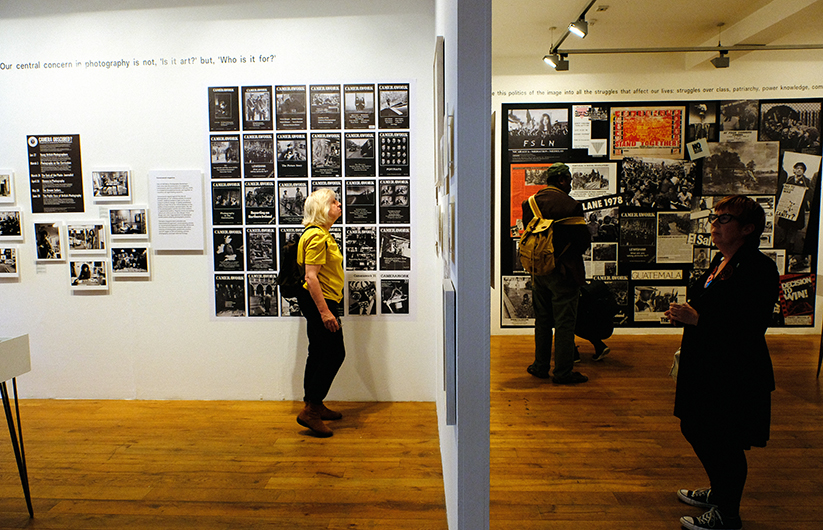 This exhibition explored two radical 1970s arts collectives in London's East End.
Four Corners and Camerawork (formerly Half Moon Photography Workshop) championed filmmaking and photography as tools for social change. Engaging with grassroots activism and underrepresented cultures, their work inspired a generation of practitioners.
The exhibition featured photographs by Chick Chalmers, Judy Harrison, Nick Hedges, Mike Goldwater, Martin Parr, Paul Trevor, Jenny Matthews, Ed Barber, Susan Meiselas, Derek Smith, Peter Kennard and many others, alongside extracts from Four Corners' films including Nighthawks, Bred and Born and A Kind of English; and other archive material on display for the first time.
PAST EVENTS
28 June 2018
Radical Visions Symposium at Birkbeck
21 July 2018
Half Moon Photography Workshop: The Inside Story
A roundtable discussion with early members Ron McCormick, Paul Trevor, Mike Goldwater & Jenny Matthews
20 September 2018
Photomontage Then and Now
Talks by Peter Kennard, Loraine Leeson and David Evans
27 September 2018
Community Photography in the 1970s
Talks by Judy Harrison, Janine Wiedel and Philip Wolmuth
29 Sept 2018
Radical Archives for the Future: Networks and Collaboration
This event explored how archives of radical film and photography might work together, collaborate and create future networks. Presentations by Four Corners & Camerawork archive, Jo Spence & Terry Dennett collection at Birkbeck, Mayday Rooms and the London Community Video Archive.