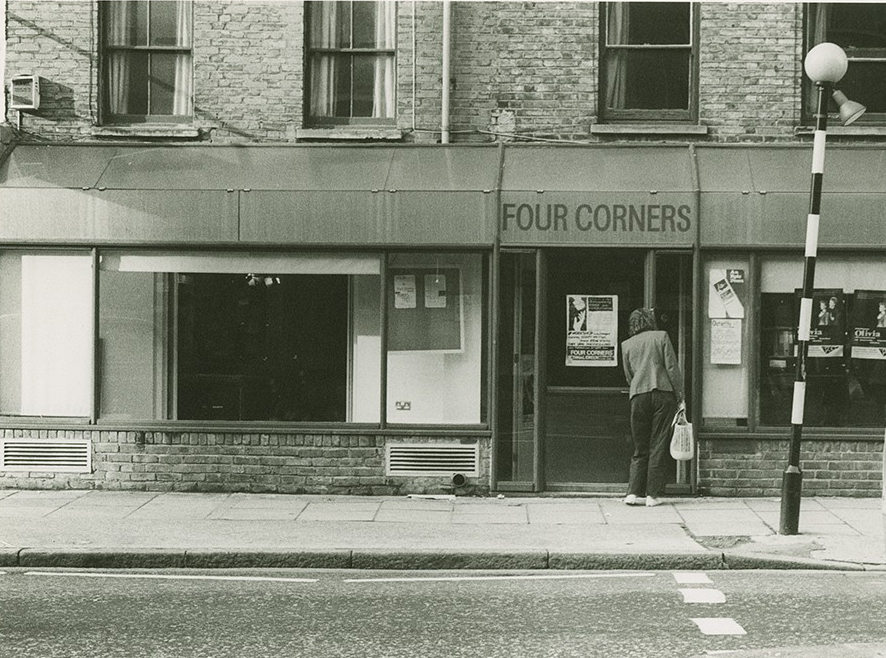 FORMATION
Four Corners was formed in 1973 by four young filmmakers – Joanna Davis, Mary Pat Leece, Ronald Peck and Wilfried Thust. They sought to develop independent filmmaking, both at the level of production and what was on the screen, and bring films and filmmaking to those who had previously been excluded from the whole practice. At 113 Roman Road in Bethnal Green, they created a cinema and production workshop, screening films to local audiences.
FOUR CORNERS AND CHANNEL 4
The organisation was provisionally franchised under the Channel Four Workshop Agreement in the 1980s, producing films such as Bred and Born, Hang On A Minute and Is That It? among others. Nighthawks (Ron Peck/Paul Hallam 1979) was Britain's first gay feature film, and East London filmmaker Ruhul Amin's A Kind of English, (Channel 4 in 1986), was the first Bangladeshi feature film to be made in Britain.
PRODUCTION AND TRAINING
After Channel Four funding ceased in the mid-1980s, Four Corners became a production and training resource, supporting BAFTA and Turner prize nominees alongside local artists and trainees. The small raked cinema at 113 Roman Road held monthly screenings of filmmakers' work, much of it cut upstairs in the edit suites. From the 1990s Four Corners became increasingly recognised for its high-quality, free industry training scheme for unemployed people from diverse and non-traditional backgrounds.
RELOCATION
In 2003 Four Corners was granted 119-121 Roman Road by Arts Council England to reopen the darkrooms and photographic gallery formerly run by Camerawork, an organisation with a complementary history.
Four Corners' new centre opened in 2007, following a £1m build project. It provides a flexible and accessible public space with a gallery, training rooms, film facilities, darkrooms, studio and workspace for creatives.
TODAY
Four Corners is a renowned centre for film and photography, providing a dynamic learning, production and exhibition environment where filmmakers, photographers, artists, trainees and local people work together. Specialist programmes support around 500 people a year, with large audiences attending the gallery exhibitions, talks and events.