We've written this guide to help make your visit as comfortable and easy as possible. We hope it covers what you will need to know, but you are also very welcome to contact us to discuss your access needs or ask any other questions.
Four Corners Gallery Visitor's Access Guide
Where are we?
Four Corners is at 121 Roman Road. The front of our building has two large windows with the front door in the centre, and the walls are painted orange and grey. Here is a picture: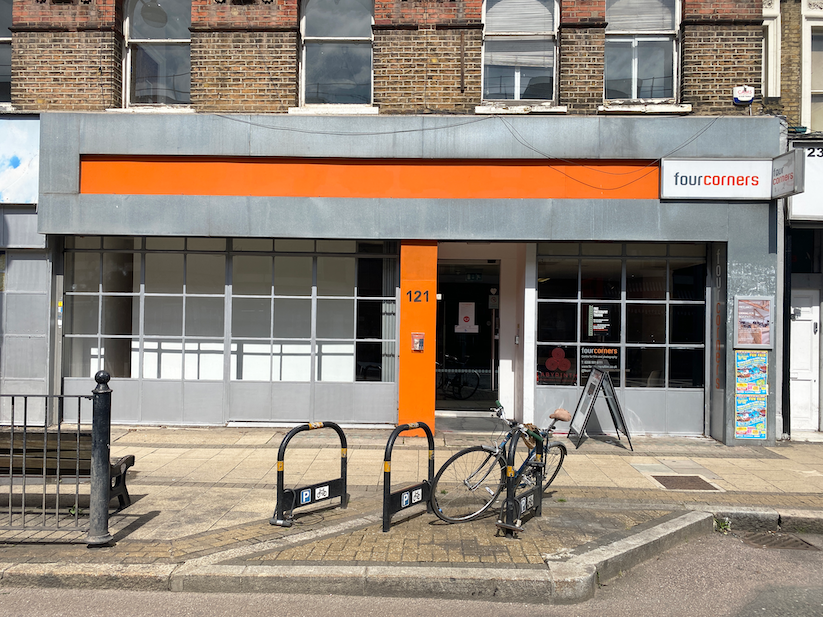 The posters in the window and A-board will change for each exhibition.
How to get here
Four Corners is located in Bethnal Green in East London, close to the Buddhist Centre and Young V&A.
Public Transport:
The nearest underground station is Bethnal Green (Central Line). This is a 6 minute walk from Four Corners, or you can get the D6 bus.
The nearest train station is Bethnal Green (Overground Line). This is a 14 minute walk from Four Corners, or you can walk to Bethnal Green underground station and catch the D6 bus.
The nearest train station with step-free access is Shoreditch High Street (Overground Line). This is a 27 minute walk from Four Corners, or you can get the 8 bus.
The 8 and D6 buses both stop on Roman Road and are only a couple of minutes walk to the gallery.
The 106 bus stops on Cambridge Heath Road, a 7 minute walk to the gallery.
The 277 and 425 buses stop on Grove Road, an 8 minute walk to the gallery.
Check https://tfl.gov.uk/transport-accessibility/ for latest info or use Citymapper to find the best route (scroll down for the step-free option).
Car and Bicycle Parking:
Metered parking is available on Roman Road and the surrounding area. This is free to use with a Blue Badge, though please note car doors may open directly onto the street. Unfortunately, we have no designated disabled parking bays. Four Corners is located outside of the congestion charge zone. There are bike racks directly in front of our building, as pictured above.
When are we open?
The gallery is open Tuesdays to Saturdays from 11am to 6pm, and sometimes until 8pm on Thursdays. We don't have exhibitions open every week of the year, so it's always a good idea to check before you visit. All exhibitions are free to visit.
To find out if we're open, visit the 'What's On' section of our website to see information about current and future exhibitions. Alternatively, you can email us at info@fourcornersfilm.co.uk or call us on 020 8981 6111 to check.
You can book a slot to visit an exhibition by email or by phone, or you are welcome to drop in. It is also possible to book private, quiet hours for your visit - please just get in touch.
Sometimes we are open at other times for events. You can find this out on our website via the 'What's On' page under 'Events'.
How do you get into the building?
Four Corners is a street level gallery with step free access.
There is one entrance via a glass door at the front and centre of the building. The doorway is 39 inches wide.
It is usually unlocked if the gallery is open, in which case you can pull the door open to enter. If you are unable to open it by yourself, thanks to the transparent door our receptionist should be able to see you arrive and help you in.
If the door is locked and/or the receptionist is away from the desk, there is an intercom on your right for entry (pictured below). Please press the buzzer marked 'Reception' and when asked, state why you are visiting and wait for somebody to let you in. If intercoms are inaccessible to you, please press the same buzzer and wait for somebody to come and get you.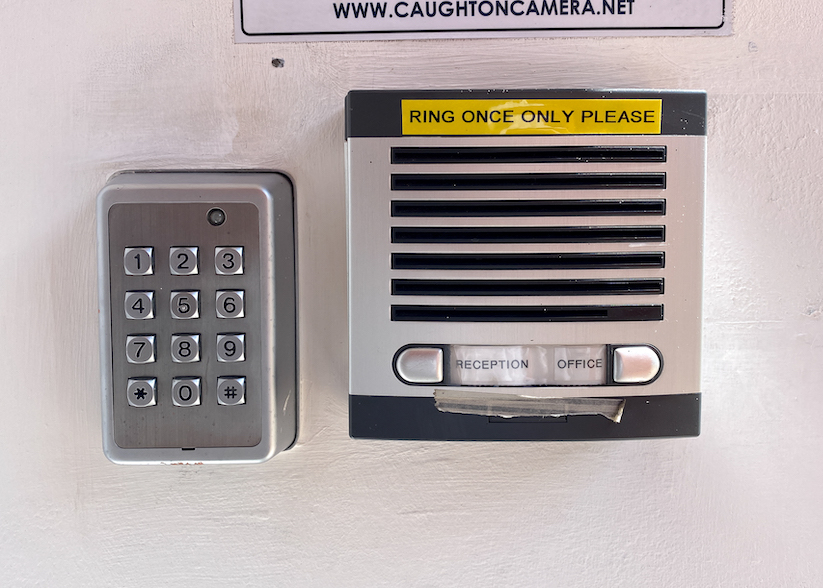 Once you are inside the gallery there are no steps.
What is it like inside?
Here is a floor plan: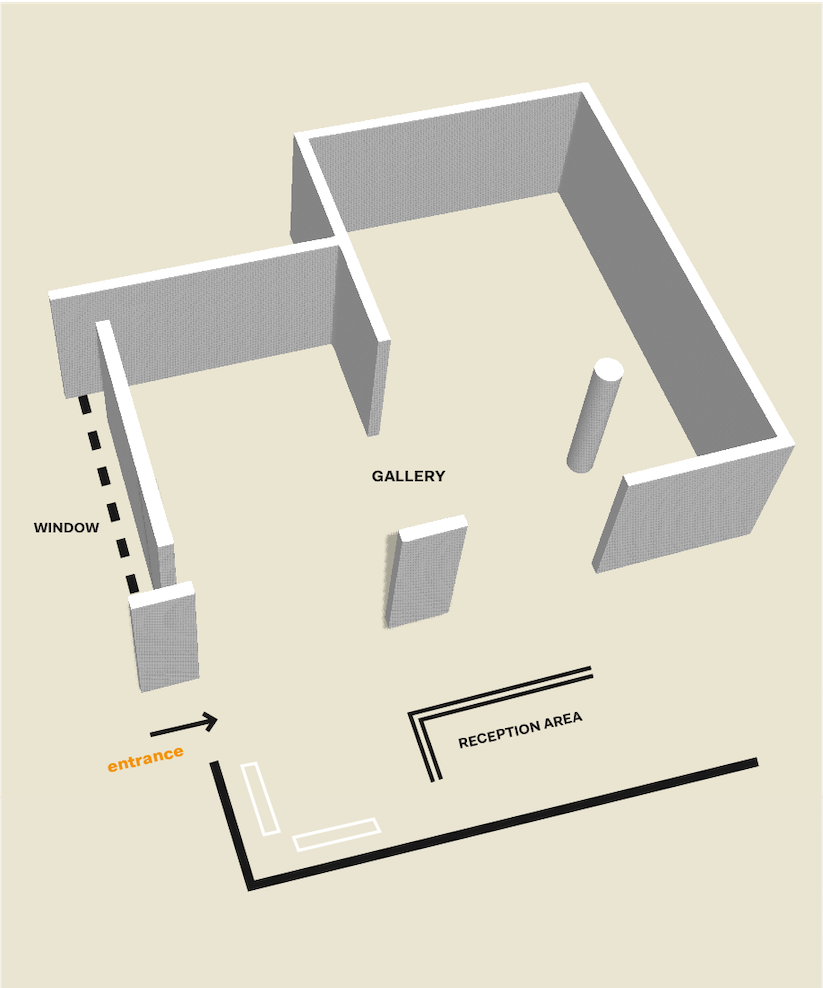 When you enter the building you walk straight into our open plan reception and gallery area. It is lit by a mixture of LED spotlights, gallery quality halogen light bulbs, and one fluorescent strip light. There may be daylight coming in through the front door and windows.
The reception area will be on your right and the gallery space on your left.
Immediately to your right is the reception desk for Labyrinth Photographic. Here is a picture: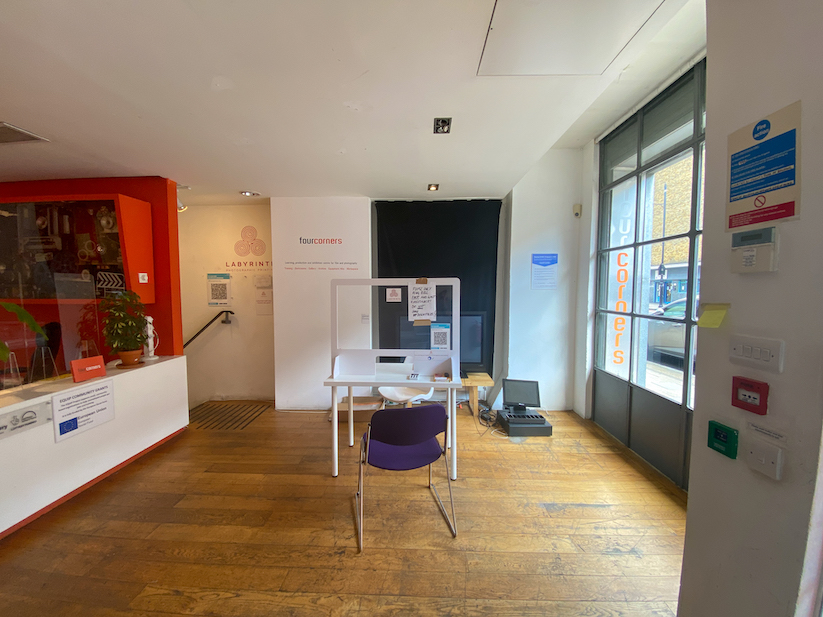 To your right as you walk in slightly further, is the Four Corners Front Desk. Here are some pictures: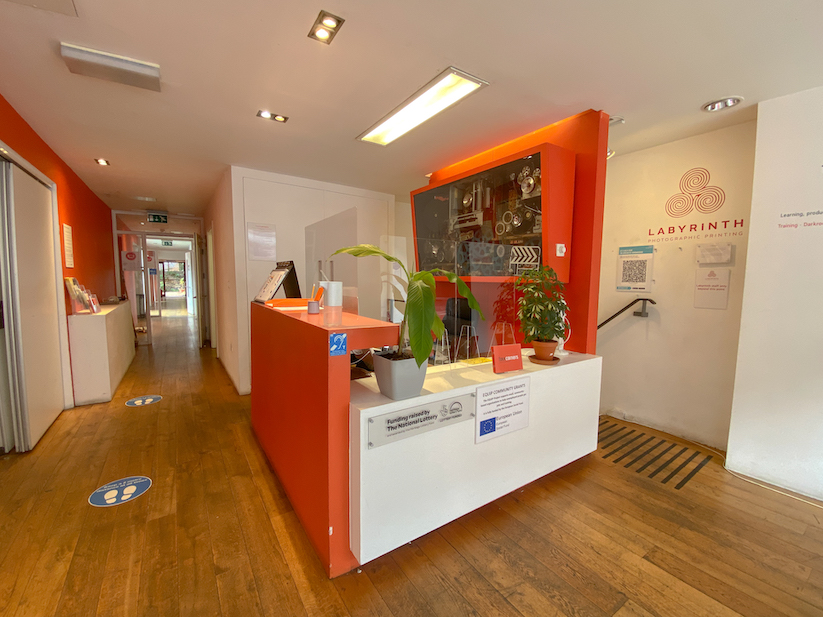 A member of staff will be sitting behind the desk to welcome you in. They will offer you information about the exhibition, answer any questions you may have, and may ask you to fill in a feedback form at the end of your visit if you have the time.
They may ask you to wear a face covering (unless exempt) and offer you hand sanitizer that sits on the reception desk.
We have a hearing induction loop installed. The stairs behind the desk lead down to Labyrinth Photographic and are staff only.
To your left is the Gallery. Here are some pictures of the space: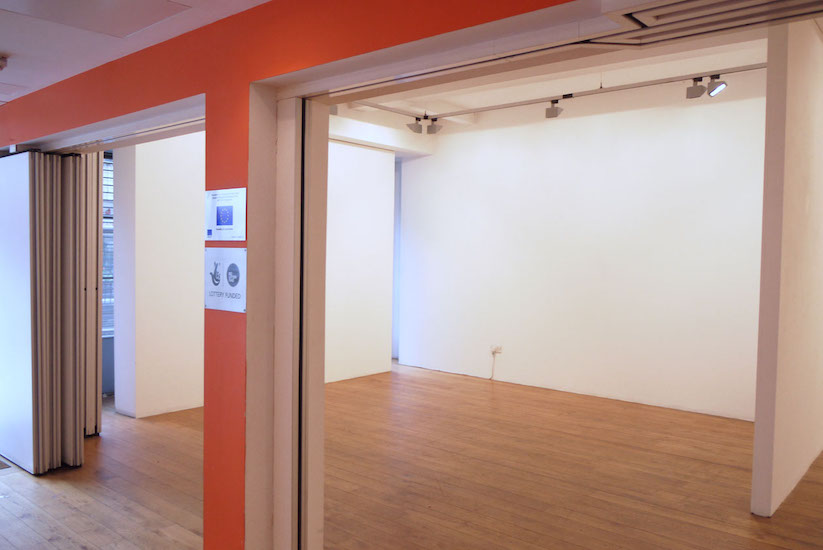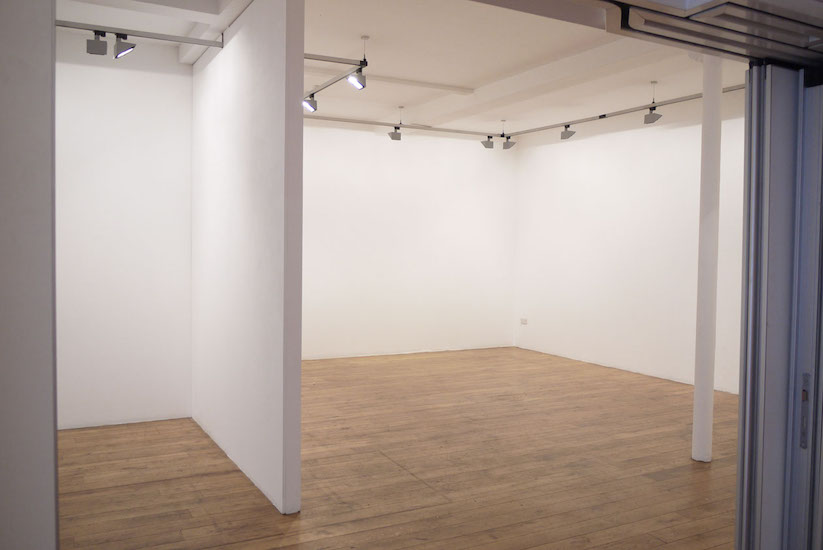 There will be seating provided for all exhibitions.
As you look forward, past the gallery and reception there is a corridor which leads to the bathroom, staff offices, darkroom, garden, and studio. Here is a picture: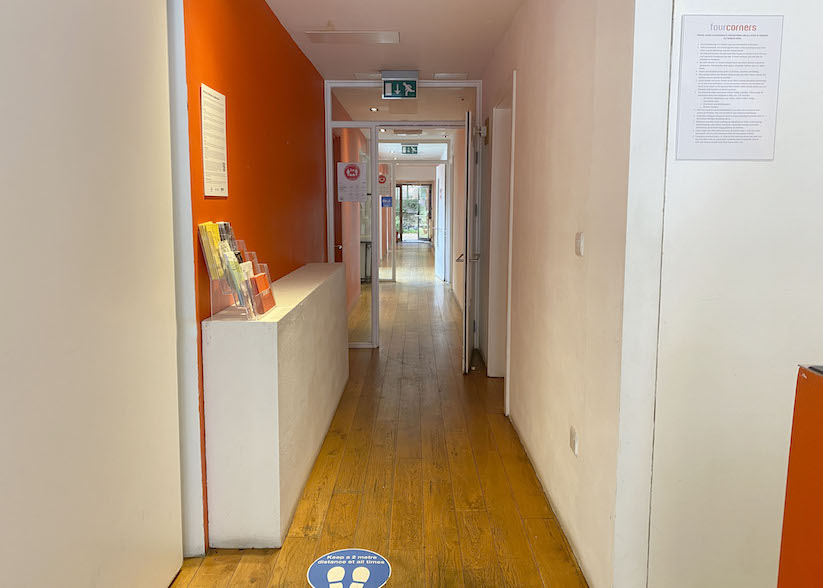 Leaflets are available on the white plinth on your left, and sometimes there will be a text panel on the orange wall giving further information about the current exhibition.
The third door on your right as you move down the corridor is the bathroom. Here is a picture: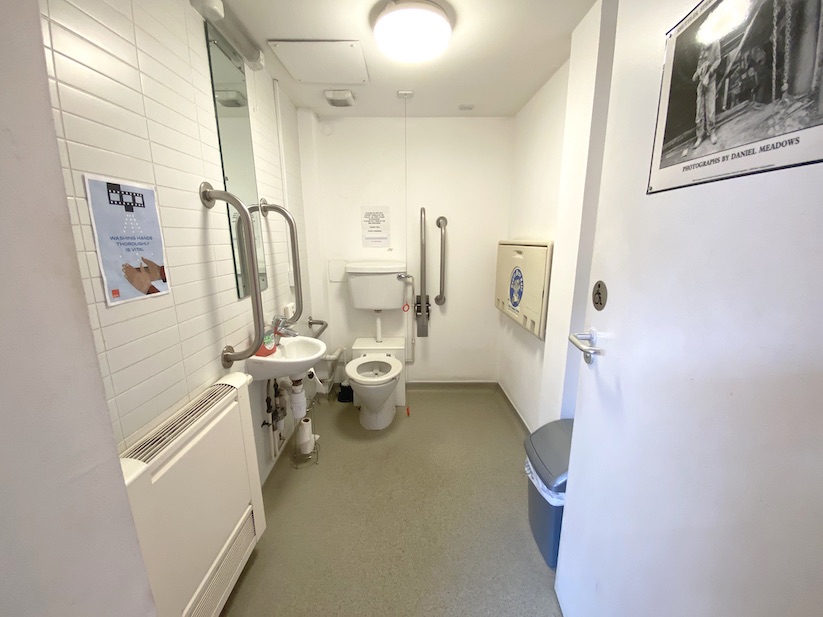 The all-gender accessible toilet has grab rails, a lower sink, baby changing table, bin, and working red emergency alarm cord. The door opens forwards and is 34.5 inches wide, and there is overhead fluorescent lighting.
Exhibitions:
If you have questions about a specific exhibition, please get in touch at info@fourcornersfilm.co.uk or call us on 020 8981 6111.
Assistance Animals:
Assistance animals are very welcome.
Haven't answered your question?
We want everyone to be feel comfortable visiting Four Corners and have a positive experience once you arrive, so if you have any questions or any suggestions for how we could improve this guide, please email us info@fourcornersfilm.co.uk, call us at 020 8981 6111, or speak to a member of staff during your visit, and we will be happy to help.
---
We are grateful to Eastside Projects from whom we have taken inspiration for this access guide.