Can you support an up-and-coming filmmaker with a work placement or mentoring opportunity?
Watch some of the short films made as part of our training programmes:
Mentors and Placements
Champion emerging talent.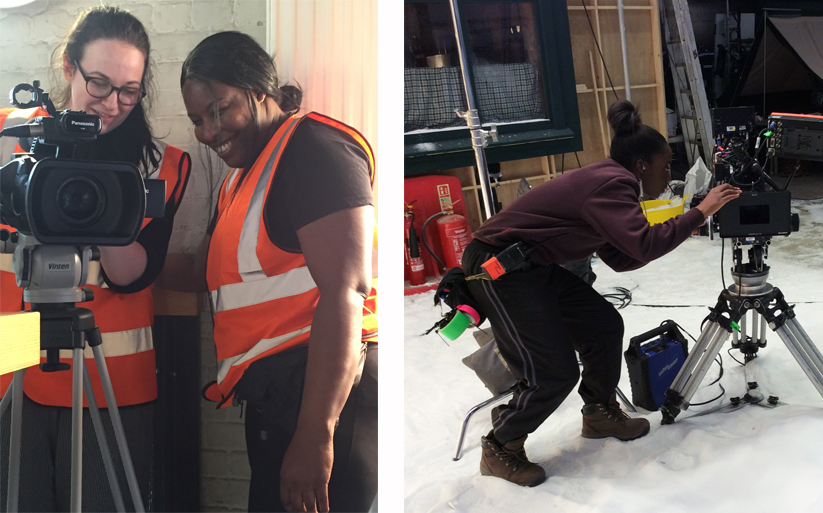 I am delighted to continue my support of Four Corners and their efforts to make the film industry more inclusive. I very much look forward to what they are going to achieve. Mike Leigh
PAID PLACEMENTS
We support our film/TV trainees with industry placements, paid at the London Living Wage. We just ask for a small daily contribution. This enables people from diverse, under-represented backgrounds to gain vital experience, confidence and networks, and to progress onto successful careers. Our partners include BBC Films, CBeebies, Clerkenwell Films, Eleven Films, Eon Productions, Fifty Fathoms, HanWay, Lucasfilm, Netflix, Panavision, Paramount Pictures, Tiger Aspect, and Trademark Films.
MENTORING
Could you mentor one of our trainees? Our recent mentors include Sally Potter OBE, BAFTA Breakthrough Brits Ray Panthanki and Charlie Covell, editor Robert Sealey, actor-director Femi Oyeniran, screenwriters Vinay Patel and Chandni Lakhani, director Rebecca Johnson, cinematographers Catherine Goldschmidt and Suzanne Salavati, focus puller Richard Bradbury.


Why partner with us?
Be connected with our large network of diverse talent.
Provide mentoring opportunities for your staff.
Support increased diversity within film & TV.