Heartfield: One Man's War
Revisiting the father of photomontage.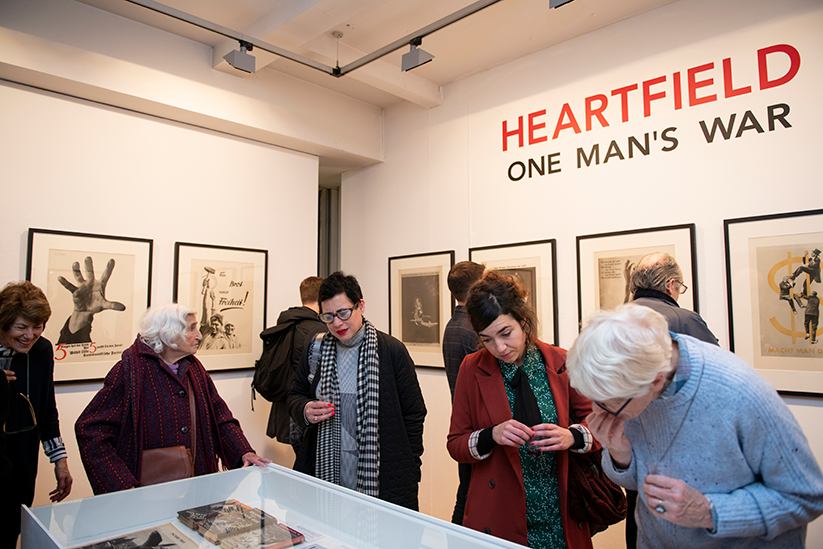 This exhibition revisited the father of photomontage, John Heartfield. Armed with scissors, paste and acerbic wit, Heartfield used art as a political weapon. Risking his life under Hitler's Third Reich, he subverted Nazi imagery to reveal the political threats of 1930s Germany.
80 years since the outbreak of World War Two, Heartfield's work foregrounds the need for artistic agitation in challenging times. His striking photomontages offer inspiration in our own era of rising far-right politics, racism and the blurring of fact and fake news.
33 of Heartfield's scathingly satirical artworks were shown alongside a fascinating collection of historic artefacts.
This exhibition was curated by Four Corners in collaboration with Professor John Hyatt and Special Collections & Archives at Liverpool John Moores University.

PAST EVENTS
21 November 2019
Trademark John Heartfield
Professor Andres Zervigon shared John Heartfield's journey from advertising student to political photomontage artist.
14 November 2019
Peter Kennard: Visual Dissent
Renowned photomontage artist Peter Kennard joined us to discuss his new book and the influence of John Heartfield upon his work.
22 January 2020
From Heartfield to Memes: Lessons from History
Sabine Kriebel (University College Cork) discussed the significance of John Heartfield's mass-circulation photomontages in today's era of the meme.
---
PARTNERS
Supported using public funding by the National Lottery through Arts Council England, the Barry Amiel & Norman Melburn Trust and the Paul Mellon Centre.