10 JUNE - 15 SEPTEMBER 2022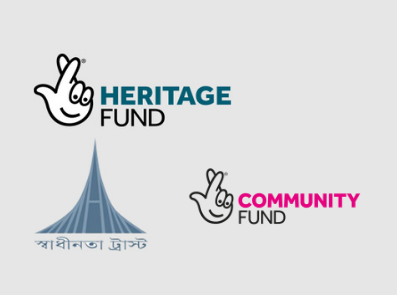 Brick Lane 1978: The Turning Point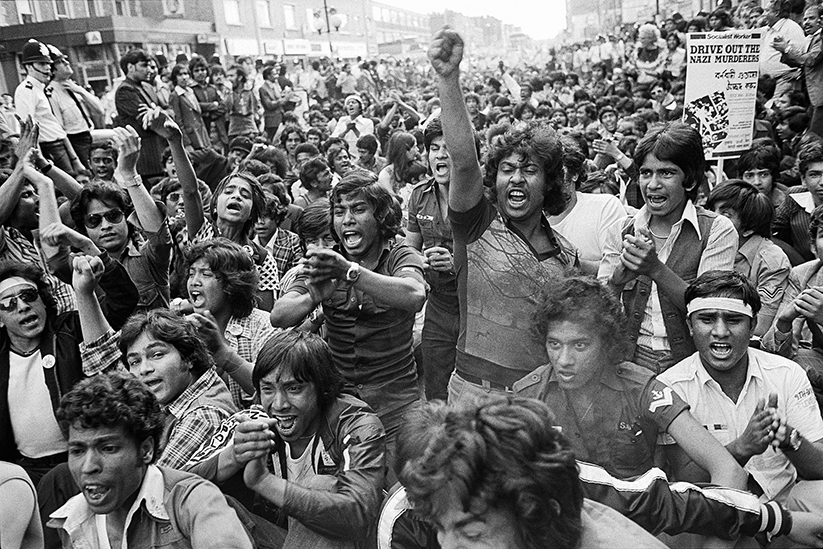 Image by Paul Trevor. Outside Bethnal Green police station, London, 17 July 1978.
Sit down protest, demanding the release of two arrested demonstrators.
---
An exhibition of photographs by Paul Trevor celebrating East London's Bengali activists of 1978.
This exhibition revealed the dramatic events which were sparked by the racist murder of Altab Ali, a 24-year-old Bengali leather garments worker, and paid tribute to the activists who mobilised around the rallying cry of justice that followed.
Local East End photographer Paul Trevor documented how members of the local Bengali community endured racial abuse as a constant factor of everyday life, and the moment at which they mobilised against racist violence and institutional police racism. The exhibition brought together 75 of Trevor's photographs for the first time, alongside oral history recordings by original activists.
The show marks the culmination of a major heritage project led by Four Corners and Swadhinata Trust, in partnership with Paul Trevor. With the help of volunteers and original activists, the project is creating a record of this watershed moment as told by local people. The exhibition, alongside project oral history interviews, short films and podcasts, will be available as a touring show, and will be lodged at the Bishopsgate Institute Archives.
Read more about the Brick Lane 1978 Project so far
Brick Lane 1978: The Turning Point - Exhibition on Tour 2023
The exhibition will tour throughout 2023, first to Mulberry Secondary School for Girls, the Osmani Centre, Brady Arts Centre. Then on to Tower Hamlets Local History Library and Archives in Autumn 2023. We are delighted that the exhibition will continue to reach new audiences at schools and community centres in the borough.
Brick Lane 1978: Touring Press Release
---
PAST EVENTS
14 July 2022: Memories of Brick Lane
Join us for the launch of the Brick Lane 1978 short film, made by our volunteers in collaboration with the Rainbow Collective. Watch Memories of Brick Lane

4 August 2022:
6pm: Curator Talk in the gallery by Carla Mitchell
7pm: The Far Right and the East End in the 1970s
Historian and activist David Rosenberg discussing the history of the National Front and other far-right parties in east London during the 1970s.
---
PARTNERS
Brick Lane 1978: The Turning Point was supported by the National Lottery Heritage Fund. Using money raised by the National Lottery, we inspire, lead and resource the UK's heritage to create positive and lasting change for people and communities, now and in the future. www.heritagefund.org.uk. Follow @HeritageFundUK on Twitter, Facebook and Instagram and use #NationalLotteryHeritageFund
The Swadhinata Trust is a London based secular Bengali community group that works to promote Bengali history and heritage amongst young people. The organisation has been operating since November 2000, offering workshops, exhibitions and educational literature to young Bengalis in schools, colleges, youth clubs and community centres. www.swadhinatatrust.org

Paul Trevor is a photographer and was a founder member of the Half Moon Photography Workshop and its magazine Camerawork. http://paultrevor.com
---
PRESS
---
Listen to our specially curated playlist of music to accompany the exhibition: